Bikes 'n' knitting 'n' stuff

So many things to report on! First of all, I got extremely bored with dating, so I'm going to take a break from that for a while, except for continuing to enjoy Cute Vegan Cyclist Guy's company and extraordinary cooking. I mean, a girl's gotta eat, after all. CVCG has been uber supportive of my new hobby, cycling. And he's simply adorable and fantastic company.

I got myself suckered into a charity bike ride in Carmel in October, and that was all well and good until I realized that, um, I don't own a bike. Dur. So, I picked CVCG's brain for a while and then went up to East Side Cycles in Petaluma (LOVE those guys!) and bought a killer road bike for a killer low price. Tip - they're clearing out their '05 stock, so go buy a bike!

Of course, because I'm brilliant, I go and buy a bike as the weather gets colder and I'm less likely to bound out of bed on an overcast SF Bay Area morning and go for a bike ride (which is exactly why on a Sunday morning, I'm on my couch in my jammies updating my blog rather than going for a bike ride or even doing my dishes - although the dishes have little to do with the weather).

Last Sunday, my friends Stacy and Nikki came over for a little knit 'n' wine (or whine, if you're Stacy). Nikki brought over a beautiful Capis shell curtain for me to divide my studio apartment with, and because she's so handy and knew that I'd never get around to putting it up, she put it up for me and then celebrated her handiwork with a kir royale.



Stacy had to bring her yarn roller-upper (I know there's a real word for that handy little tool that rolls up the yarn into those nifty little balls, but I have NO idea what it is), because Nikki's tiny little kitten had a yarn party and unraveled 2 of my 7 balls of expensive Debbie Bliss Alpaca Silk the night before. The cats were enamored with the yarn roller-upper.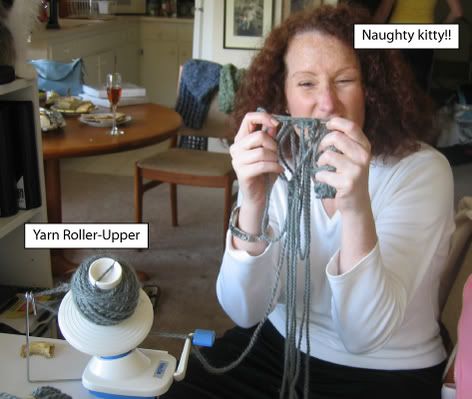 And, that very same day, I got started on my version of the
Paris Loop
. It's beautiful and I'm knitting it in Debbie Bliss Alpaca Silk and Jo Sharp Infusion Kid Mohair. I love this combination, so soft!!